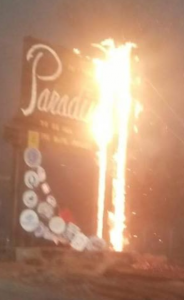 In 2009, The Rotary Club of Paradise started its own foundation to solicit corporations, accept tax-deductible donations, and help the citizens of Paradise – mostly through grants to kids (e.g., scholarships, leadership camps, dictionaries to all third graders) .
Since November 8, 2018 – the date of the devastating wildfire that wiped out 93 % of the whole town of Paradise – the Paradise Rotary Foundation took on a new role: to raise money to help rebuild the town of Paradise. Through grants, the Paradise Rotary Foundation will assist businesses and civic organizations to help bring Paradise back to the new normal. 
Through contributions from people, Rotary Clubs, Disaster Foundations, and many other groups, the Paradise Rotary Foundation has issued over $80,0000  in gift cards for immediate assistance after the Camp Fire. Since then, a grant to the Moose Lodge to help get their RV area ready for living in again was easy to approve; at least fifteen RV's can then provide housing for Paradise families to come back to their home town.
Another grant for an excavating company to expand their workforce and help clear the debris from the fire was approved.
Welcome To Paradise signage was also approved, and many others.
So, please know that the Paradise Rotary Foundation works like the Rotary Foundation internationally.  All funds will be dispersed to help rebuild Paradise. We are paying our very small overhead from the interest we are making on the donated funds. There are seven Paradise Rotarians that make up the Foundation Board. That is who approves the grants.
Please be generous. And if you can not afford a large donation, think of what $20 can do if just 1 million people did that!